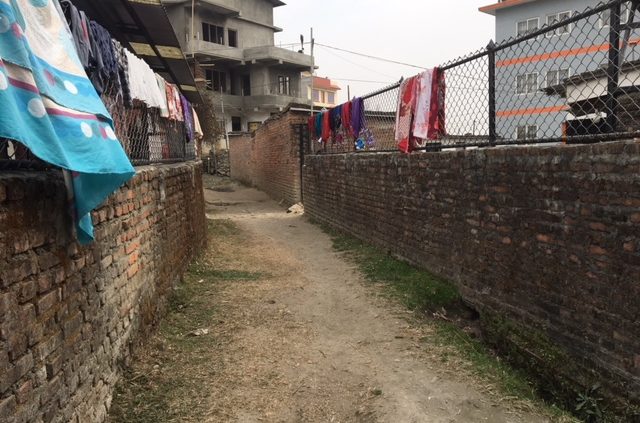 Whoever dwells in the shelter of the Most High
    will rest in the shadow of the Almighty. Psalm 91: 1
Kathmandu is the capital city of Nepal and it is 3000 feet high from sea level. Four million people live in this valley. That means people everywhere. City keeps expending and growing. If you came, few years back and visited us whole area would be empty and open land. Not anymore. It is crowded. The study predicts that by 2020 there will be no empty places in the city. The cost of living has gone high. This is an expensive place to live and land prices have gone skyrockets. More houses are coming every day.  Rural village migration has populated city.  It is dream of every Nepalese to have a home in capital city.
Our first children home and ministry base is in the North of Kathmandu city. We have most good neighbors around the children home. They are friendly.  Everyone is different in his or her approach to us according to individual. Some are silent and some are more vocals. Most of our neighbors are not believers. It makes some of our neighbors upset that we are believers. Some of them have told us that we are western religion agents. This is one of the common accusation against Christians in Nepal. According to them, our presences there is to spread the Christianity. Honestly, I only talk about believing in Jesus. We are making disciples for Jesus. We love all our neighbors regardless of their faith. It is not easy to live and run mission base surrounded by non-Christian environment.
Christianity is new in this area. I do not remember meeting any local believers 17-20 years ago.  Today there are good numbers in our area. Some of these people attend our fellowships. All of our neighbors have heard the gospel, but most of them do not believe in Jesus. Off course, we are praying for salvation of our entire village people and showing the Love of God to our people so they can come to the saving knowledge of Jesus.
Month of February I spent most of my time in Nepal doing ministries such as speaking in the churches, teaching in Bible school and meeting individuals.  One of those was a meeting with neighbor who wanted extension of road from our property.   I asked some of you to pray. Thank you so much for your prayers. There are two pieces of land, which connect to each other.  Below is the pictures. In the middle of the property blue print, there is 6-8 feet old stream. In monsoon season, the water flows from there. A couple of village people who have properties behind the children home wanted to build bigger and wider road from ours to their properties.   First according to the law, they cannot just extend wider and bigger road without the approval of both side owners. Second, they also need specific purpose of the extension of road. Third, they cannot just turn a stream in to road. They really need to buy private property and expend it to go to their property. They did not want to pay for it. The people who own the land behind the property there is no road access except walking trails.
The neighbor invited and formed the committee. This included other villagers who have nothing to do with us. He used them to make an uproar against us with lies. Our faith is attacked all the time. Their whole goal was to expend the road by force.  Unfortunately, this has happened before, because they think if they have uproar and come against in masses, they can do it. In the past, many of Christian properties have forcefully occupied. This is how communist came in power and forcefully stole what they wanted from 1995-2006. The law had no power and not respected.
After hearing this, I reached out to the local leaders in the village. First, I talked with ward chairperson, (elected village leader) he said that it was up to us to decide.  According to him that the neighbors could not just decide the extension of the road by taking our property.
Next day, the meeting was scheduled. A handful of people showed up on Thursday and the person who invited the meeting canceled because he expected more people.   He invited the meeting again on Monday. In the meantime, we all kept praying and asking God's wisdom on this matter.
While I was talking to this person, I felt that I was intimidated and fear hit my heart.  After finishing our talk, I went inside the house, up in my room, and started praying. I started rebuking it and casting it out the spirit behind it. I had to deal with myself and fight the spirit of fear. I realized that I needed to be free from it before I could deal with anyone. I knew it was not with the right intention whatever he was trying to achieve.
Based on the information given to me by some people in the village, which the meeting was not just about road. Some of those people's plan was to close our church and stop what we are doing.  When I closed my eyes and felt like all the dogs from neighbors' property were barking at us. I realized that I was in a place of Jeremiah confronting Asar and Baal's prophets.  I kept praying each day more and more and asked your prayer.
The city is surrounded by strong, extreme demonic strongholds. Pro- Hindu leaders and movements are vocal against Christianity that is not a new thing. We are told by the Social welfare council administration authority of government not to have bible studies and not to let children attend fellowships. Last year one of the Christian church facilities is destroyed in Kathmandu. It takes God's strength and lot of prayers to run all those ministries.  Already, because of local, government opposition we have moved bible college in down town area
As I met all these people on Monday.  I let them speak for a while.  Two people had already minutes the meeting before people came.  They have written paragraph stating these are the decision we made and down there were no decision written.  I was surprised and it was very evil intent. I asked God to give me right word and wisdom. With respect, I began to speak and kept praying. There was confusion among them. The courage and authority filled me and I sensed God's power as I spoke and every one kept silent. No one argued with me and I left the meeting without signing any agreement or giving to their demands. At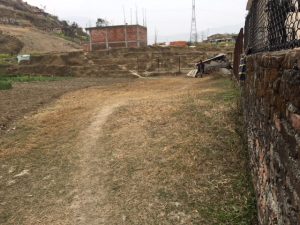 the end, I decided to give them 10 feet road on the humanitarian ground.  When I needed road in the front I had to pay my neighbor to have it extended 10 feet. I told them if they needed more than they should pay for it.  The condition was that they had to put a wall back as it is now.
Since then  we realized and senses urgency to  buy that land behind the children home.  We cannot buy all of it but at least to the point where we cannot be disturb by this neighbor. He always comes with different plans, like this road.  One person just tried to rally
the whole village against us. We need to buy that land and level the property. Children home property is too small and it gives us threats on every side. We need eight Ana. Per Ana it is $10000 but we will need $ 80'000 US dollar.
At the end of the meeting, each one of them left and I was told that other people who joined the neighbor left him because they thought it was not right.   I just want to thank you so much and appreciate your everyday prayers.  We cannot not do what we are doing without God's power and strength. Thank you for your prayers.
I read that morning this scripture below and please read it and be blessed.
Psalm 91: Whoever dwells in the shelter of the Most High
will rest in the shadow of the Almighty.
2 I will say of the Lord, "He is my refuge and my fortress,
my God, in whom I trust."
3 Surely he will save you
from the fowler's snare
and from the deadly pestilence.
4 He will cover you with his feathers,
and under his wings you will find refuge;
his faithfulness will be your shield and rampart.
5 You will not fear the terror of night,
nor the arrow that flies by day,
6 nor the pestilence that stalks in the darkness,
nor the plague that destroys at midday.
7 A thousand may fall at your side,
ten thousand at your right hand,
but it will not come near you.
8 You will only observe with your eyes
and see the punishment of the wicked.
9 If you say, "The Lord is my refuge,"
and you make the Most High your dwelling,
10 no harm will overtake you,
no disaster will come near your tent.
https://compassionforasia.com/wp-content/uploads/2018/03/IMG_3924.jpg
480
640
Administrator
https://compassionforasia.com/wp-content/uploads/2022/04/CompassionForAsia_Logo_2farge.png
Administrator
2018-03-05 19:24:30
2018-03-07 02:31:27
The road of victory!