Would you please join in prayers with us!
Working in Nepal has been full of adventures. It is always questions that I ask what is next? Finally came out of the children home-road challenge and move to the next one. We live and work in a country, which is hostile against the minority, especially towards Christians. Everything we go through we know in that all things works for the good of those who love him who have been called according to his purpose.
Paul's words also remind me of 2 Corinthian 4:8-9 We are afflicted in every way, but not crushed; perplexed, but not driven to despair; 9 persecuted, but not forsaken; struck down, but not destroyed. We have not experienced a hostile environment like Paul, but still, those words are full of encouragement as we live and work in Nepal. Every time we go through a tough time, we get to grow and put our trust in Jesus. He is our strength and shield. The anti-conversion law has empowered an extreme opponent of the gospel and try to limit the voice of the churches.
Our present challenge is the same neighbor who caused the uproar and moved the road to our side is giving us problems again. Now he has also bought the property next to the children home new building and their playground. It used to be a hill, but he pulled down the mud and is now making a large wall structure next to the playground. We have agreed on paying him $3500 to finish off the wall and the drainage, but we do not know if he will do it until it is finished. He cannot be trusted.
It is still rainy season around here and the mud from the same mountain has been used to fill in a lower property behind the children home. It has flooded our property and the first floor of where the children have lived before they moved last year. It has been complicated, as laws have very little power. The authorities do not care as long as someone bribes them, so our voices are not heard.
Our approach at this moment is praying, fasting, and asking that the Lord will deal with both of these men. We have watched God take out people before, so we know He can do things that we cannot. Currently, we cannot afford to put at least $15.000 into drainage, wall, and repairs for the damage the neighbors are doing, since there has been one thing after another. We are financially drained.
We also need to put a wall around our property, as it protects the land. If we do not do this soon, people can come and claim our property. It is just how this county works.
On the positive side, the emergency steps are coming along. 60% of the bills have been paid and we are grateful for Gods provision for this important project. These steps will be able to hold up in a case on an earthquake or other emergencies.
I would like to ask you to pray with us. I am currently working 12-hour days, just to try to keep things going, but unless God interferes, we are not sure what we can do. Your support means the world to us, so thank you!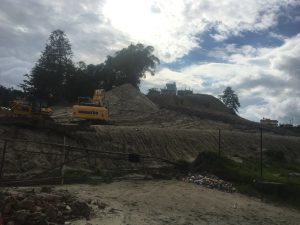 https://compassionforasia.com/wp-content/uploads/2019/09/flooding-2.jpg
725
966
Administrator
https://compassionforasia.com/wp-content/uploads/2022/04/CompassionForAsia_Logo_2farge.png
Administrator
2019-09-17 10:40:16
2019-09-21 16:28:16
Would you please join in prayers with us!